Burberry Haymarket Small Salisbury Tote - Military Red
Burberry tan high fashion handbag is exquisite and has sophisticated and elegant detail. Clean black and white checkered lines cover the handbag with a contrast of red lines that add just the right highlight to this intricately designed handbag. The leather straps add just the right touch to this high fashion handbag.
This Burberry Haymarket small salisbury tote handbag is fashion at its most prestigious elegance in military red. Of course, it's Burberry, so it's made in Italy and imported fashion handbag. The Burberry handbag has two-way top-zip closure and PVC with calfskin-leather trim. The handbag has interior zipper and cell phone pockets. If you are looking to own one of the most prestigious brands of handbags on the planet, then this bag will make you feel like a billion bucks!
Burberry Haymarket Colours Peyton Wristlet
This Burberry Handbag is exquisite in black with coated canvas. It's about 25cm long and 14cm high and also about 3cm wide. It has a lovely shoulder strap drop with a max of 62.5cm. It's very compact and elegant for a sophisticated look. Be ready to turn heads with this amazing handbag. That's why people love Burberry and are willing to pay so much for their priceless handbags. Burberry makes anyone's handbag collection complete and top notch!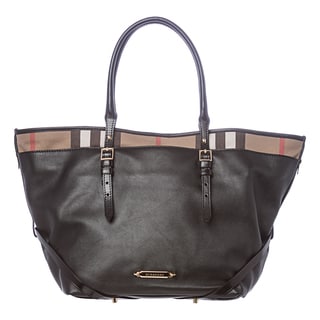 Burberry House Check Small Salisbury Tote - Black
This Burberry handbag is priceless high elegance as with all of Burberry's handbags. This black Burberry handbag has double top handles and a zip closure with interior pocket and two interior slip pockets. You also get the logo plaque on the front of the handbag. It's the ultimate in handbags and sophisticated with a touch of sportiness to top it off. This Burberry handbag will be so noticeable it will take the attention away from any other piece you may be wearing.